Current News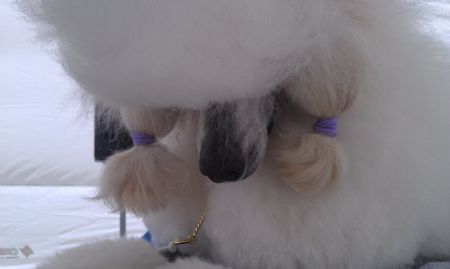 ******NEWS*******
2020
Wow it's been a long time between update, how time gets away from us all! Sadly Bear passed away in 2017 and is very missed. We have three additions to the household.
2014
Coco gained her final points for her Australian Champion title in style by taking out a 13 point Bitch Challenge at the Royal Melbourne Show.
On the 2nd of January, Penny whelped a litter of five boys, one cream and four white. Four puppies are already spoken for.
2013
Coco gained her first pass in CCD at the Gippsland Obedience Club Trial in November with a second place. So very proud of this girl, who is starting to come out of her shell.

Coco is starring at obedience. I have decided to concentrate on this for at least the next six months to build up her confidence. She is a natural and is picking it up so easily at only 7 months of age. Here's hoping that we may be ready for CCD at the next Poodle Club Obedience trial.

We had a fantastic time in NSW, attending the Sydney Royal, where Zeva came first in Intermediate Bitch and second in the Intermediate Bitch Class at the Poodle National. We met some lovely people and had a fantastic time.

Elvis has gone to his new home where he will be much loved, we will miss him terribly, but my plants won't!

Zeva gained her Australian Champion final points at the Warragul Champ show taking out Best of Breed and Intermediate in group.

Zeva wins Intermediate in Show at the Poodles Club of Victoria Open Show and Elvis with Baby Puppy Standard.
2012
Our darling Asha had to be put to sleep the week before Christmas. We will miss her so much, she was just over 11 years old and we had some wonderful times trialling together. Sweet dreams beautiful girl, you were such a lady.

Puppies have arrived. We have four white girls, two cream girls and three white boys. They were born on the 16th of September and will be available to go to their new homes after the 11th of November.

Confirmed that a litter is due on the 15th of September for Penny and Marlon "Aglaia Empire of the Sun". If you are interested in a new addition to your household, I would love to hear from you.

A litter is planned later this year. Please contact me if you are interested in making one of Penny's puppies a member of your family.

Zeva wins Junior of Breed at the 2012 Poodle Championship Show.
2011
Eight of Penny's puppies have gone off to magnificent homes and one girl (Zeva) has stayed with us. Her first show was at the Royal Melbourne and she had an absolute ball, winning the Baby Puppy of Breed (we won't tell anyone that she was the only one).

She is now six months old so we hope to be out and about in the ring a bit more now, though keeping her in show coat will be a bit of a challenge due to her getting into absolutely everything.
Nine puppies were born on the 2nd of June. Four black boys, three cream boys and two cream girls, mum and babies are doing well!
May 2011 Update: Penny is pregnant and due 5th of June.
April 2011 Update: Ch Myrana Lady Penelope has been mated to the very handsome Ch Starus I'm Talking (Ramzee). We would expect maybe cream, white and black puppies. If you are interested in a puppy from this litter, please feel free to contact me ASAP as three puppies are already spoken for.
What a great time we had at the 2011 Poodle National in Melbourne. Thank you so much to Zefi for her excellent grooming of Penny, she looked stunning.
Penny came second in Intermediate Bitch from some strong competition. The winner going on to take out Intermediate of breed.
Contact Details
Lisa Cook
Traralgon, VIC, Australia
Phone : 0412435619
Email :
[email protected]