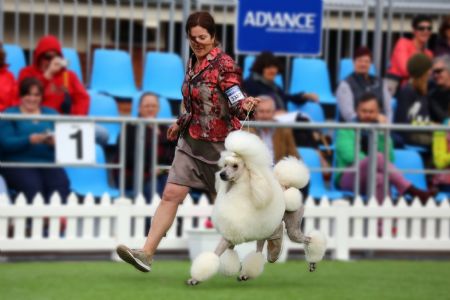 Welcome to my web page.
Thank you for visiting my website.
Just a little bit about myself- I live in the Latrobe Valley in Victoria and share my home with four sons and three standard poodles. I first started dog obedience at the age of 14 with a white minature poodle called "Emile" and my love of obedience has continued since this time.
I have been involved with poodles all of my life, growing up with minatures. When the opportunity arose, I purchased my first standard poodle in 1993. "Lits Rennaisonce" or "Buster" as he was called, he saw me through some tough times. We did some obedience together, however he was never trialled due to my work committments. Sadly, he went to the rainbow bridge at 8 years old due to gastric torsion (bloat).
Then along came "Asha" (Myrana Black Magic C.D) and my friendship with Heather Dickinson. In 2006, Asha had a litter of five pups with "Vegas" (Gr. Ch Capanash Dark Illusion). From this litter I kept "Bear" (Jaredo Thunderstruck CCD CD) we ventured into showing, but it really wasn't his scene. Bear gained his CCD title at 16 months and his CD title at 18 months.
"Penny" (Aust Ch Myrana Lady Penelope) was my first Australian Champion, she just loved the show ring and being the centre of attention and has been the most wonderful mother.
"Zeva" (Aust Ch Zarzou Creme Della Creme) is my first poodle that I have bred and titled. I had a very hard time trying to keep up with her in the ring as she would fly around. A beautiful girl with a beautiful temperament. Currently Zeva is loved and owned by Suzanne and Michael.
"Coco" (Aust Ch Zarzou Coco Luvs Chanel) is currently being shown in neuter . We have also completed a six week agility class and now all we need to do is to get her to focus on where she needs to go and not what she wants to go on. Coco has gained her final points for her Australian Championship in style by taking out a 13 point Bitch Challenge at the Royal Melbourne Show 2014. Coco now has two Best in Show Neuter wins. The most recent the 2019 Poodle National in Sydney.
I am now campaigning Darcy (Zarzou Pride N Prejudice) and Jett (Zarzou I Want it All). Darcy won Best in Show at the Recent Poodle Club of Victoria Open Show. I can't wait for him to put it all together!
I have had great support along the way and made some great friends, how empty life would be without a standard poodle.
Please feel free to contact me or add any comments, or just come and say hi!
PER Source # RB102491

Contact Details
Lisa Cook
Traralgon, VIC, Australia
Phone : 0412435619
Email :
[email protected]
117692 Visitors